Trade Shows // Events // Conferences // Communication-Plattform for urban innovations and trends.
URBAN VISION MEETS DIGITAL INNOVATIONS
Making future cities connected, efficient and smart.
RE.VISION Pavilion focuses on the development of urban living spaces under the influence of the latest digital technologies and socio-economic changes – a joint exhibition stand for urban innovations and future trends in the real estate industry.
We want to bring together the masterminds of international, forward-looking companies and institutions, experts within the fields of real estate industry, urban development, architecture, start-up scene and science, as well as regions, cities and municipalities, to show the visions and innovations that they are working on, designing our future living space – the "Cities of the Future".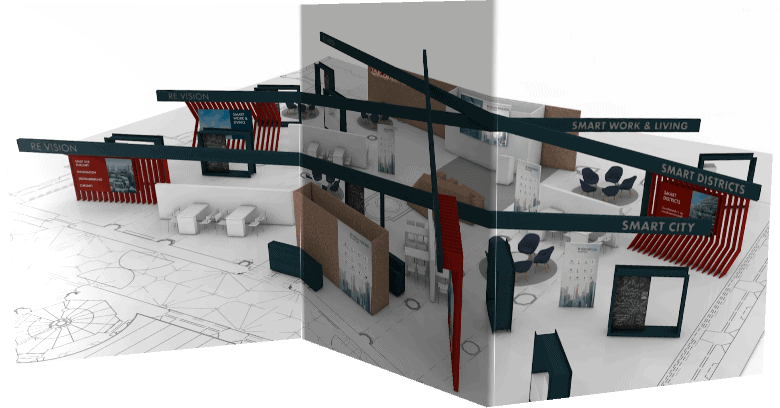 Urban development for livable and intelligent cities of the future
Development of innovative urban and business districts
Use of latest technologies:
AR  |  VR  |  AI  |  IOT  |  Blockchain
Innovative concepts for real estates and public spaces. Co-working  |  micro-living  |  serviced apartments  |  student housing  |  hotel concepts
Exhibition Design and Architecture
The RE.VISION Pavilion stand design is unique, an eye-catcher, with a high recognition value and a corresponding long-distance effect. The four exhibition areas "Future City", "Evolving District", "Disruptive Technology" and "New Work & Living" are independent yet interconnected, creating USP's and yet synergies too. 
All four topics are mutually dependent. Digitization for example provides added value that flows into neighbourhood and urban development, but also into the areas of living and working, providing new milestones and solutions for living together.
Our exhibition stand design is based on connecting elements, symbolic for networking. All four exhibition areas interconnected via a bar formation, illustrating the interdependence. The transitions are all fluid. This fits very well with the themes "Future City", " Evolving District", " Disruptive Technology" and " New Work & Living", where everything is in flux.
The four areas themselves present themselves independently with their own visual design.
Creative Hub for the Masterminds of Future Cities – Welcome Home.
Be a pioneer and find your spot in one of the most vibrant and creative environments.
Choose a category that suits your business and show the world your visions, ideas, concepts and products that will shape and change the cities of tomorrow.
Showcase your company, institution or city, join or listen to a panel of visionaries and experts and invite your customers to a meeting or a cup coffee.
We're looking for you.
Become co-exhibitor.
This is your opportunity to be a pioneer in an innovative environment and to position yourself as a company, institution or city on a stand for trends, developments and innovations in the real estate market. At this trade fair stand you can make your contribution to the future of the real estate industry and promote and benefit from the exchange among industry experts.
With this joint stand we offer
Open Space – a look into the future of the real estate industry

A microcosm that addresses the themes of "livable cities" and "innovative urban quarters" of the future

Exciting lectures on current topics round off the programme at the exhibition stand. Top speakers, experts, leaders, visionaries, scientists and multipliers discuss trends, solutions and innovative developments.
Your benefits. Our offer. All inclusive.
Turnkey provision of the entire trade fair stand

Ongoing support during the preparation phase, single point of contact, partner information with deadline overview, etc.

Meeting possibilities at the stand, including an online reservation system

Comprehensive marketing package (communication before, during and after the trade fair) via all common off- and online channels
How will we work and live tomorrow?
In a constantly changing world, crises must be seen as drivers of innovation, challenges as opportunities. 
Thinking differently for a changed urban life is the starting point for new models and innovative concepts for the cities of the future.
In the age of globalisation and digitalisation, the real estate industry and urban planning must take new paths, in order to exploit the potential of location development. Connectivity and intelligent systems play a decisive role for innovative urban centers of the future.
"Future City", "Evolving Districts", "Disruptive Technology", "New Work & Living" stand for our urban life of tomorrow.
FOCUSING ON THOSE WHO STRIVE FOR A NEW WAY OF URBAN LIVING!
We will bring together all those who identify upcoming technological leaps and disruptive developments for the city of tomorrow and design new product systems and real estate models for them.
We don't create illusions, we deliver visions!
Join us to rethink and discover future urbanity!
Are you interested in a stand partnership or do you simply want to find out more? Then use the form below and you will receive further information.